Wedding Release Doves
Fly free and return home
Love Doves
The perfect pet for bird lovers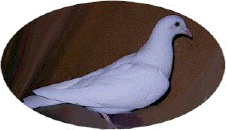 Our Wedding Release Doves are snow white and have been bred especially for ceremonial releases. They will return to their home loft from distances and all of the parents of our young babies are "working birds" at Catalina White Dove lofts in Tucson Arizona, performing regularly at weddings, funerals and other events.

The ability of these creatures to return home from long distances has long baffled ALL scientists. No one quite knows how they find their way home, but they think it's possibly linked to the Sun's position and the Earth's magnetic fields at any given time, although memory may also play a role.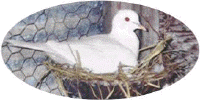 Our display doves or "Love Doves" are pure white, and they are the doves of the Bible. They are the doves you see in magic shows, and they make wonderful pets. You can keep them in an indoor cage and enjoy their gentle coos.
The Pure White "Love Doves" are smaller than the Release Doves, and they are perfect for a cage display but cannot be released. They are often used in conjunction with the White Wedding Release Doves.