White Dove Society
If you are looking to plan a white dove release, please browse the directory to find a White Dove Professional in your area. Be sure they are a member of the society and you can be assured that your release will be a success!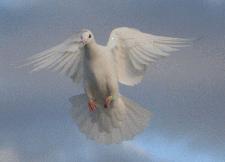 Find a White Dove Release Professional for your Event
1. Select the area (within about 50 miles) of where you want your release.
2. Contact the White Dove Professional in that area from the directory.
Click here to browse the Directory
Purpose of the Society
The International White Dove Society is dedicated to the worldwide promotion of White Dove Businesses as a profession, with continued education through a quarterly JOURNAL covering news and up-to-date articles on all aspects of white doves, and public awareness via a DIRECTORY of white dove businesses worldwide.
Click Here to read the Code of Ethics by which members agree to abide.
Benefits of Membership
1. As a member you receive instant exposure on the Internet with a listing. Customers will find you quickly and easily. We are the highest ranked white dove professional organization on the Internet.
2. Place the logo on your website and your customers will know that you adhere to strict Standard of Ethics and they will appreciate this. Your membership builds trust and confidence.
3. Network with other members when you have questions, and always feel free to contact the society.
4. Browse the journal for answers to your questions and submit any that you may have. There is a wealth of information offered to members.
Click here to learn about joining


Interested in Raising White Doves or Becoming a White Dove Release Provider?
| | | |
| --- | --- | --- |
| If you love White Doves, take this quiz! | Yes | No |
| Do you enjoy raising and caring for beautiful creatures? | | |
| Do you enjoy making a profit? | | |
| Do you enjoy working with people? | | |
| Would you like to begin a FUN business? | | |
| Does the sight of a flock of birds ignite your imagination? | | |

Already Have a
White Dove Business --

But need some poems or readings for releases???

Click Here for some
Original Poems!



If you answered YES to at least 3 of the above questions, then perhaps Raising White Doves is for you. We are offering a way for you to learn how to ...

White Doves 101

teaches you how to start a business and begins with the history of Doves and their relationship to humans. It continues to detail how to raise your own flock of White Doves and begin your business. There is even a portfolio of pages to use in your marketing -- and a contract for a White Dove Release.

START YOUR OWN BUSINESS
CLICK HERE for more Information